Uncategorized


Thank you Sunshine Coast Council for supporting our grant that enabled us to buy these amazing paddles in 2019. All new members who join Outrigger Caloundra and compete in regattas as novices will have access to these light, slick and gorgeous paddles! Thank you for supporting the community to be more active!
/
0 Comments
/
by occccoma
Uncategorized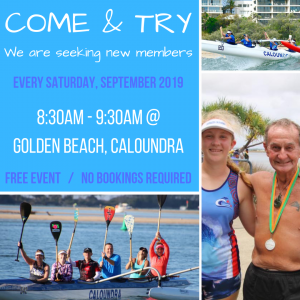 Calling all ocean lovers with a competitive spirit!!  Come and Try outrigger canoeing with us every Saturday in September from 8:30am to 9:30am.  We'll take you for quick 10 min paddle sessions around the passage and go through technique and safety issues on the beach.  Suitable for the whole family!  Free event, no bookings required.  Give it a crack and try something different.
/
0 Comments
/
by occccoma
Uncategorized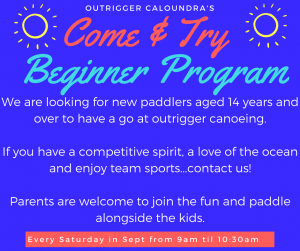 Do any of these statements relate to you?
"I've always wanted to give paddling a go"
"I need to find a sport that is more gentle on my knees"
"I want to meet new people and try a new sport"
"I want to get my kids involved in a sport that the whole family can enjoy"
"I am looking for a team-based sport that is fun and challenging"
"I love the ocean and want to enjoy it in a new way"
Well here is your chance to come and try outrigger canoeing!
We are running beginner sessions every Saturday in September for people to paddle with Outrigger Caloundra.
No previous paddling experience required.
We supply the paddle and all safety equipment.
Free event for anyone aged 14 years and over.
Wear clothes you don't mind getting wet, a hat, a water bottle and shoes to protect your feet on the boat ramp (eg reef walkers, boating shoes)
It is essential that you can swim 400m unassisted and tread water for 4 mins (you will not be tested, but we do ask for your honesty on this safety requirement)
For more information, please contact us.
/
0 Comments
/
by occccoma